Who is it for?

Construction Workers
Healthcare Workers
Marketing Agencies
Small Business Owners

Features
3
1
3
1
6
3
3
Construction Workers
Keep up to date about Appointment Scheduling offers like Bookafy
Privacy
Bookafy
Over +25,000 big and small businesses worldwide use Bookafy's free scheduling app to manage their appointment booking needs.
With Bookafy, you can offer your customers real-time appointment booking with automated calendar syncing, text reminders and payments.
Enable Online Booking
Book Appointments
Fetch Unique Meeting URL
Add Meetings to Google Calendar
Confirm Scheduled Meetings
Send and Receive Email Reminders
Opt-In to SMS Reminders
Reschedule Appointments
Manage Double Booking
Customize Booking Pages
Create Employee Schedules
Provide and Adjust Time-Off
Streamline the Scheduling Process
How to integrate
Add a button to any website with our custom HTML code. Once pasted into your site, you will have a beautiful pop up booking widget.
Each account comes with a mini-website and/or booking page for each staff, each appointment type or event. The pages are simple, beautiful and mobile friendly.
Integrate with hundreds of customer engagement mobile apps on all types of mobile devices.
Bookafy's user-friendly free employee scheduling software integrates with all your marketing, record-keeping, invoicing, rescheduling, and work schedule management apps (Zoom, Outlook, Mailchimp, etc.) for stress-free automated customer engagement.

Schedule appointments with staff members, manage no-shows, eliminate repetitive tasks, and create a sleek appointment booking system with the free plan, OR, build a complete marketing software stack with the Pro and Pro+ plans.
---
Calendar.com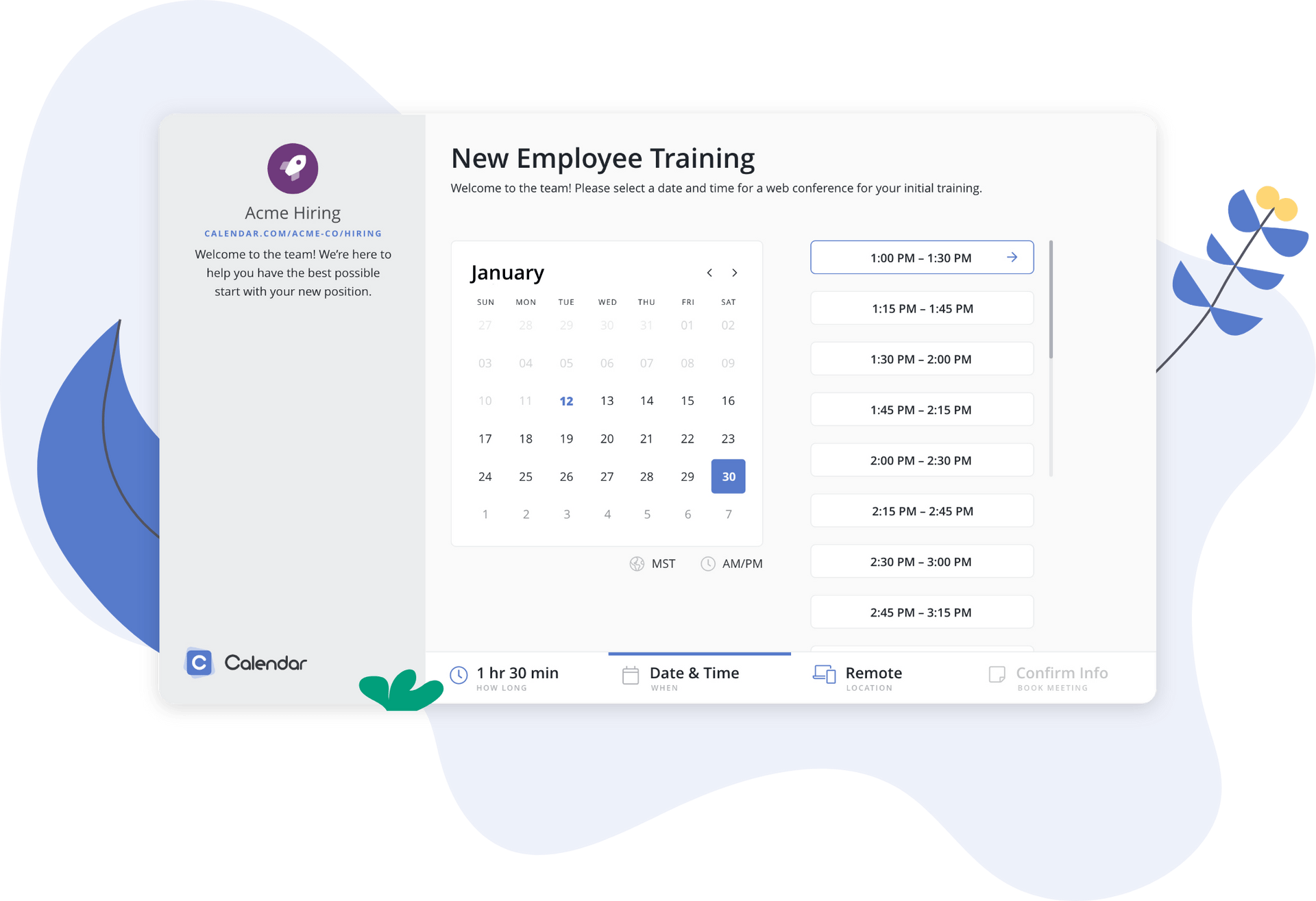 Online Scheduling Made Simple
With Calendar.com, you can allow anyone to choose and schedule a meeting directly to your Calendar.
Your Calendar will protect you from any pre-existing or conflicting meetings being scheduled at the same time. All you have to do is send them your customized personal scheduling link.
Create time slots.

Create time slots for customized event and online meeting templates. Scheduling pages can be customized. You choose which time slots are displayed.

Share your custom link.

You can send your customized calendar links to anyone. They will be able to schedule a meeting with you based on your online availability.

Automatic Scheduling.

Meetings scheduled through your scheduling app will automatically show up on your Calendar. Skipping the hassle of back and forth emails.

Calendar Analytics

With features like Calendar Analytics, for Teams you can have a calendar that showcases you and maximizes your most valuable resource: your time.



Team Scheduling: Round Robin

Calendar eliminates the endless back and forth emails between sales team members. The average sales team overbooks themselves 2–3x a day. Automatic sync schedules and fair lead distribution. Never miss or overbook a sales lead again.

Find a Time: Schedule an Online Meeting

Skip the seemingly endless emails or chat required to find time to meet and schedule events. Calendar's Find a Time feature makes it easy to schedule with other people in seconds. Enter multiple calendar users, see when they are busy or available, and then create an event based on their availability. That's productivity at its best.

Unified Online Calendar

Over the past 10 years, our lives have become more complex. Everyone is busy, and we carry our time-crunched schedules like badges of honor. People are moving faster than ever before — which means we're not slowing down enough to determine whether the way we're spending our time reflects our values.
---