Why you should try now

Free 14-day trial
Trusted by over 100K companies across 175 countries

Named as one of the Top 100 software companies of 2021
Send up to 300 emails per day with the Free plan

What are the benefits?

Affordable Pricing

Easy Setup

Intuitive Interface

Powerful Automation

Affordable Pricing

Easy Setup

Excellent Support

Powerful Tools

Things to look out for

Costs

Integrations

Limits

Support

Who is it for?

Account Executives
Account Managers
Account Representatives
B2B Sales Specialists
Managers and Leaders
Content Marketing Managers
Contact Centre Teams
Customer Service Managers
Digital Marketing Managers
Marketing Agencies
Marketing Communications Managers
Marketing Managers
Operations Managers
Property Managers
Real Estate Agencies
Real Estate Brokers
Sales and Marketing Teams
Sales Managers
Sales Representatives
Small Business Owners
Startup Companies
Team Leaders

Account Managers
Brand Managers
Brand Strategists
Managers and Leaders
Content Marketing Managers
Contact Centre Teams
Customer Service Managers
Customer Support Teams
Design Agencies
Digital Marketing Managers
Hotel Managers
Technology Providers and Consultants
Management Consultants
Marketing Agencies
Marketing Communications Managers
Marketing Directors
Marketing Managers
Marketing Specialists
Office Managers
Operations Managers
Product Managers
Resellers and wholesale
Retail Businesses
Sales and Marketing Teams
Sales Managers
SEO Managers
Small Business Owners
Startup Companies
Leisure, Travel & Tourism Industry
Travel Agents
Web Designers
Web Developers

Features
1
3
1
1
Account Executives
Keep up to date about CRM Software offers like PipeDrive
Privacy
PipeDrive
Pipedrive is the easy-to-use, #1 user-rated CRM tool. Get more qualified leads and grow your business.
Pipedrive is a customer relationship management (CRM) software designed to help small business teams manage their sales pipeline. It offers a range of features to help teams stay organised and close more deals.
Here are 10 ways small businesses might benefit using PipeDrive:
Organised sales pipeline: PipeDrive provides an easy-to-use interface to help teams keep track of their sales pipeline and prioritize tasks.
Real-time data: PipeDrive provides real-time data on sales performance, allowing teams to make informed decisions quickly.
Automation: PipeDrive automates many of the tedious tasks associated with sales, such as follow-up emails and reminders.
Integrations: PipeDrive integrates with a range of third-party applications, such as email marketing and accounting software.
Analytics: PipeDrive provides detailed analytics to help teams track their performance and identify areas for improvement.
Collaboration: PipeDrive allows teams to collaborate on deals and share information in real-time.
Customization: PipeDrive allows teams to customize their sales pipeline to fit their specific needs.
Mobile access: PipeDrive offers a mobile app, allowing teams to access their data on the go.
Customer support: PipeDrive provides customer support to help teams get the most out of the software.
Affordable pricing: PipeDrive offers affordable pricing plans for small business teams.
PipeDrive is a great tool for small business teams looking to streamline their sales process. It can be used by a variety of organisations, including:
Retailers
Marketing agencies
Consultants
Software companies
Real estate agents
Recruitment agencies
Manufacturers
Freelancers
Set up your pipeline

Create the stages of your sales funnel or use an existing template. Add your deals or import them automatically from a spreadsheet or CRM.

Track progress

Get automatic alerts and reminders to keep deals on track. Sales forecasts update every time you move a deal down the funnel.

Automate growth

Review analytics and use AI technology to help you identify opportunities to close more sales. Automate routine tasks and admin work.
Help & Support
What is Pipedrive?

Pipedrive is a sales CRM and pipeline management software that helps you to stay organized and focus on actions that matter.

What features does Pipedrive offer?

Pipedrive offers a range of features including contact management, deal tracking, task automation, reporting, and more.

How does Pipedrive help me close more deals?

Pipedrive helps you to stay organized and focused on the actions that matter most. It also provides insights into your sales process, so you can identify areas for improvement and close more deals.

What platforms does Pipedrive support?

Pipedrive is available on web, iOS, and Android platforms.

Does Pipedrive offer a free trial?

Yes, Pipedrive offers a 14-day free trial.

Does Pipedrive integrate with other software?

Yes, Pipedrive integrates with a range of other software, including Gmail, Outlook, Zapier, and more.
---
Sendinblue
Take your digital marketing to the next level.
Sendinblue is an all-in-one marketing platform that helps businesses to manage their email, SMS, and social media campaigns. It provides a range of features, including email automation, contact segmentation, and analytics.
Benefits of Sendinblue
Easy to use: Sendinblue is designed to be user-friendly, with an intuitive interface and drag-and-drop tools.
Cost-effective: Sendinblue offers a range of pricing plans, making it an affordable option for businesses of all sizes.
Analytics: Sendinblue provides detailed analytics, allowing businesses to track the performance of their campaigns.
Integrations: Sendinblue integrates with a range of third-party services, such as Salesforce and WordPress.
Customer support: Sendinblue offers 24/7 customer support, with a team of experts available to answer any questions.
Be everywhere your customers are.
Email marketing - Get the word out and sell more with sleek email messages that you can design in no time
SMS marketing - Communicate more directly with customers for urgent messages or time-sensitive offers
Chat - Be there for customers instantly when they have a question while browsing your site
Inbox - Keep your teams organized with a shared inbox and never lose track of your customer email history again.
---
Give life to your customer journey.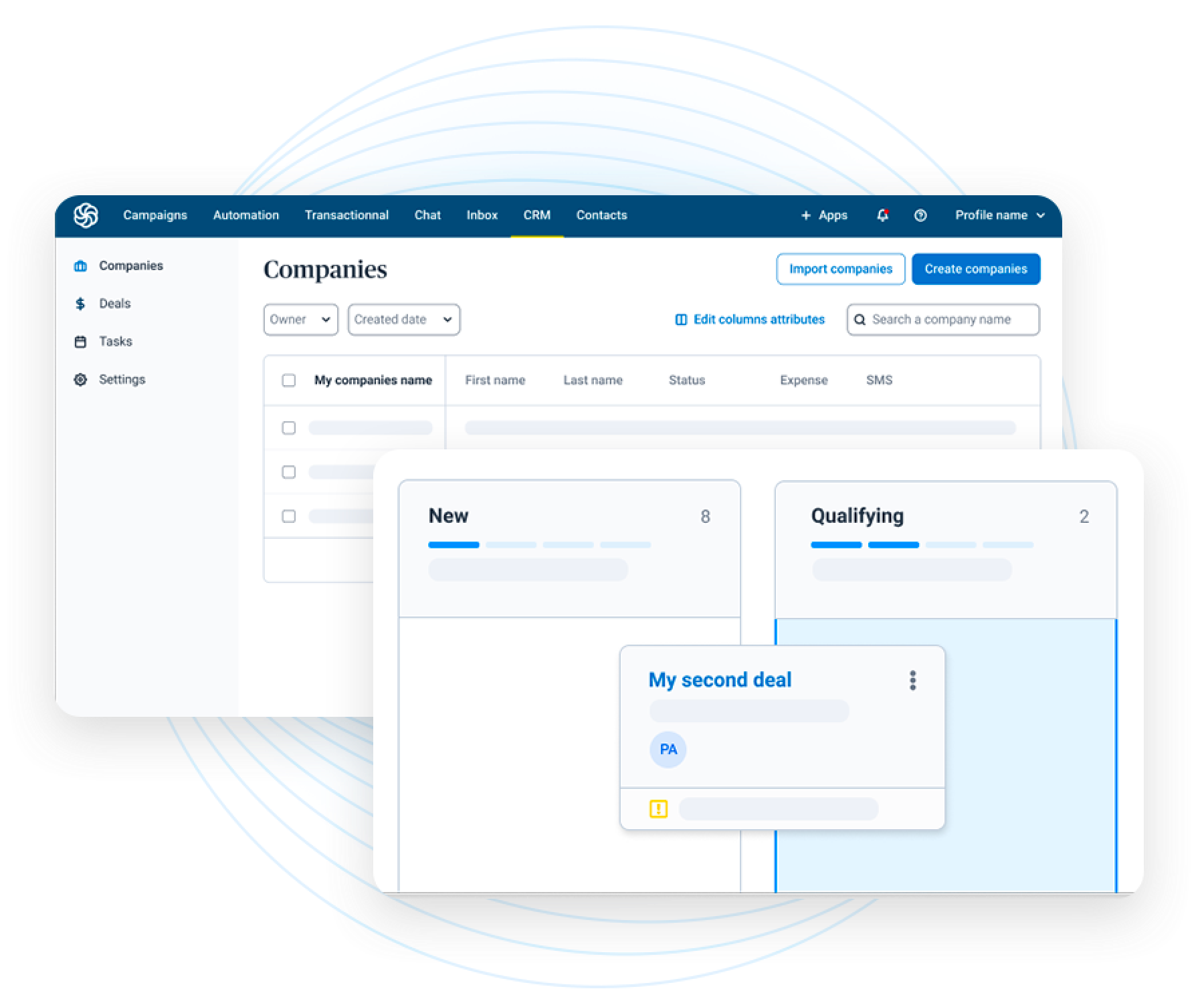 CRM - Build stronger relationships by keeping track of all your customer details in one place
Marketing automation - Save time and boost performance by automating your segmentation and marketing messages
Transactional email - Step up the design, engagement, and deliverability of your transactional email messages
Segmentation - Get more engagement by sending your marketing messages to a more targeted audience.
---
Turn your visitors into customers.
Landing pages - Create a more targeted visitor experience with dedicated pages for each of your campaigns
Signup forms - Grow your email contact list with custom forms that you can integrate in your website
Facebook Ads - Launch Facebook ads from your account to retarget contacts or reach new audiences based on your contact lists
Help & Support
What is SendinBlue?

SendinBlue is an all-in-one digital marketing platform that helps businesses to manage their email marketing, SMS campaigns, transactional emails, and more.

What features does SendinBlue offer?

SendinBlue offers a range of features including email marketing, SMS campaigns, transactional emails, contact management, automation, and more.

How does SendinBlue work?

SendinBlue is a cloud-based platform that allows you to create, send, and track your email campaigns. You can also use the platform to manage your contacts, create automated workflows, and more.

What types of emails can I send with SendinBlue?

SendinBlue allows you to send a variety of emails including newsletters, transactional emails, automated emails, and more.

How do I get started with SendinBlue?

Getting started with SendinBlue is easy. Simply sign up for an account and you can start creating and sending emails right away.

Is SendinBlue free to use?

SendinBlue offers a free plan that allows you to send up to 300 emails per day. For more advanced features, you can upgrade to one of our paid plans.

Does SendinBlue offer customer support?

Yes, SendinBlue offers customer support via email, phone, and live chat. You can also find helpful resources in our Knowledge Base.
---