We may earn a commission for purchases using our links.
Learn more
.
Arbox
Get booked easily, maximize your time and increase your revenue.
Get started for FREE with up to 3 service types, 3 products and up to 10 weekly sessions.
Powerful Scheduling
Set up appointments, sessions and workshops with a professional online scheduling system.
Maximum Efficiency
Centralize all your work, tasks, processes, tools and documents easily in one platform.
Grow Your Business
From lead generation to managing your current clients, Arbox will help your business grow.
---
Manage Bookings in a Click

Are you tired of juggling calendars and overbooking yourself? Manage your schedule with Arbox.
It's quick, easy, and fun!
Manage your availability and accept bookings in seconds, set up appointments, group sessions and recurring events, automate booking reminders and confirmations, sync calendars across all devices.

Running a Business Just Got a Whole Lot Easier

Control every aspect of your business from one place.

Manage all your clients in one integrated CRM, synchronize calendars and staff across all channels, automate your workflows with rules and triggers, send digital invoices and documents.

Get Paid on Time

Connect to your preferred payment provider and manage all transactions and finances from one integrated dashboard.

Accept one-off or recurring payments, automatic payment collection, client reminders & confirmations, invoicing & payroll integration.

Turn Your Data Into Actionable Insights

Get in-depth insights into your data - see what's working and what's not so you can make the right decisions.
View and customize all of your data in one dashboard, track and analyze client attendance, know your most popular services, view pending, paid and overdue client payments.

Win More Clients and Boost Sales

Reach new clients, boost client engagement and conversion with a suite of powerful marketing tools.

Easily capture and organize your leads, attract new clients with effective marketing campaigns, increase engagement with emails, SMS & push notifications, promote discounts, special offers, and memberships, and streamline your sales workflow.

Get a Professional Website up in Minutes

Improve your online presence with a professional website.
Publish your schedule online and allow clients book themselves, sell services and products with an online shop, welcome new clients with an easy onboarding process, get it instantly - No code knowledge required.
---
Calendar.com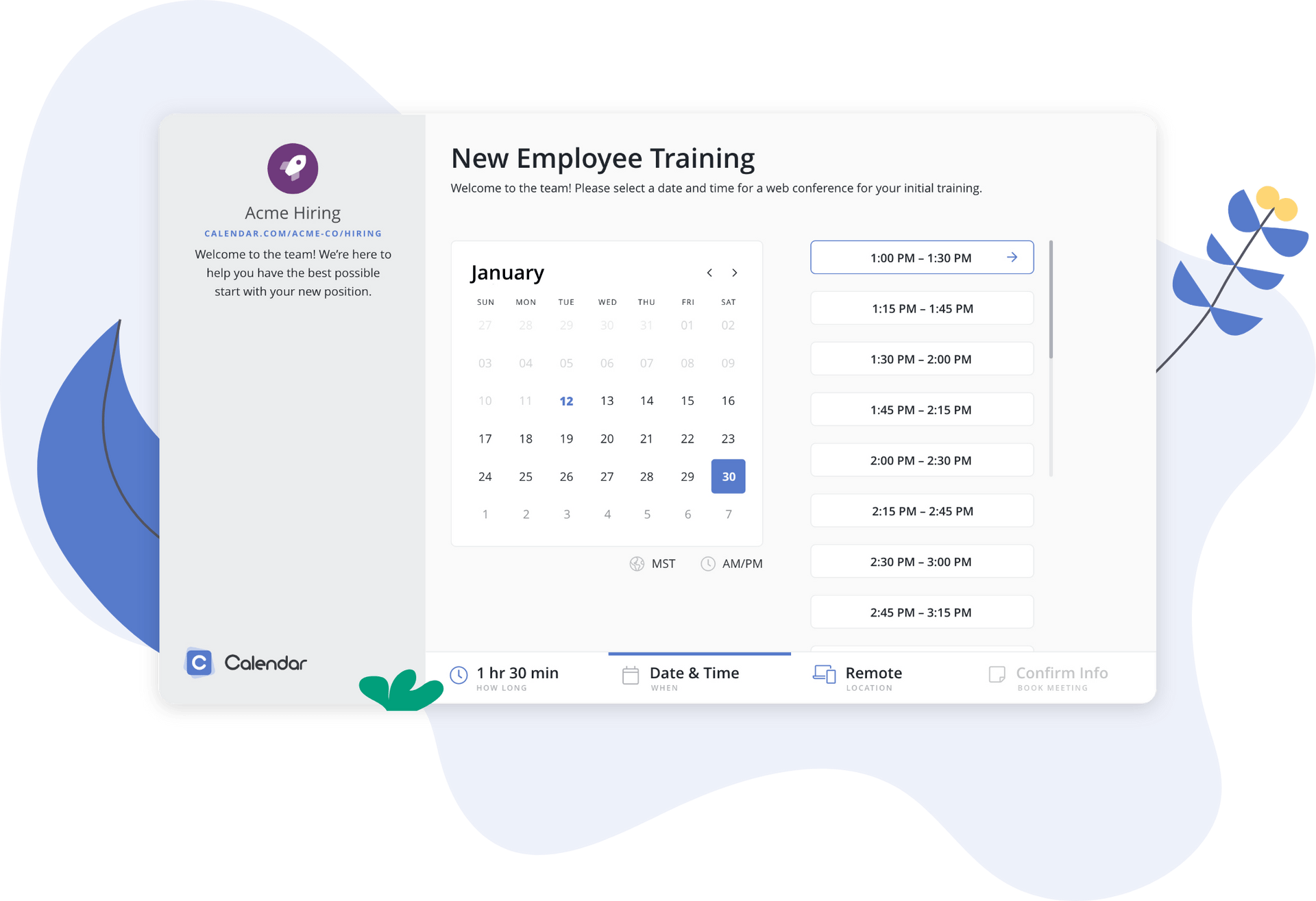 Online Scheduling Made Simple
With Calendar.com, you can allow anyone to choose and schedule a meeting directly to your Calendar.
Your Calendar will protect you from any pre-existing or conflicting meetings being scheduled at the same time. All you have to do is send them your customized personal scheduling link.
Create time slots.

Create time slots for customized event and online meeting templates. Scheduling pages can be customized. You choose which time slots are displayed.

Share your custom link.

You can send your customized calendar links to anyone. They will be able to schedule a meeting with you based on your online availability.

Automatic Scheduling.

Meetings scheduled through your scheduling app will automatically show up on your Calendar. Skipping the hassle of back and forth emails.

Calendar Analytics

With features like Calendar Analytics, for Teams you can have a calendar that showcases you and maximizes your most valuable resource: your time.



Team Scheduling: Round Robin

Calendar eliminates the endless back and forth emails between sales team members. The average sales team overbooks themselves 2–3x a day. Automatic sync schedules and fair lead distribution. Never miss or overbook a sales lead again.

Find a Time: Schedule an Online Meeting

Skip the seemingly endless emails or chat required to find time to meet and schedule events. Calendar's Find a Time feature makes it easy to schedule with other people in seconds. Enter multiple calendar users, see when they are busy or available, and then create an event based on their availability. That's productivity at its best.

Unified Online Calendar

Over the past 10 years, our lives have become more complex. Everyone is busy, and we carry our time-crunched schedules like badges of honor. People are moving faster than ever before — which means we're not slowing down enough to determine whether the way we're spending our time reflects our values.